In September 2022, Veracross journeyed to a new destination: Australia. Director of Sales, Don Humpton, and Senior Director of Marketing, Keith Krass, were invited by learning management system (LMS) Schoolbox to participate in their annual user conference. The week that followed was filled with great conversation, networking, and the occasional kangaroo sighting. 
The Trip 
The trip began with 27 hours of travel from Boston, Massachusetts to Melbourne, Australia for the Schoolbox Meetup. Veracross and Schoolbox have recently embarked on an exciting integration partnership — both sharing a "school-first" approach to tech solutions for independent schools — and we were eager to join the fun. They invited us to the conference as a way to introduce their customers to integration partners like Veracross.  
At the Meetup, Don and Keith mingled with 300+ conference attendees, chatted with our Australian-based integration partners, and listened to the needs of the independent school community. They met with thought leaders like Luke Callier, host of the Edleaders podcast, and enjoyed learning about the Australian K-12 market from local school leaders.  
Schoolbox also invited our team to give an overview presentation of the Veracross student information system (SIS) to a room full of their LMS users. This overview served as an introduction to Veracross for many in the audience and opened their eyes to the power of a one-record database. The presentation concluded with an interactive Q&A session that further highlighted the need for a centralized system like Veracross in the Australian market.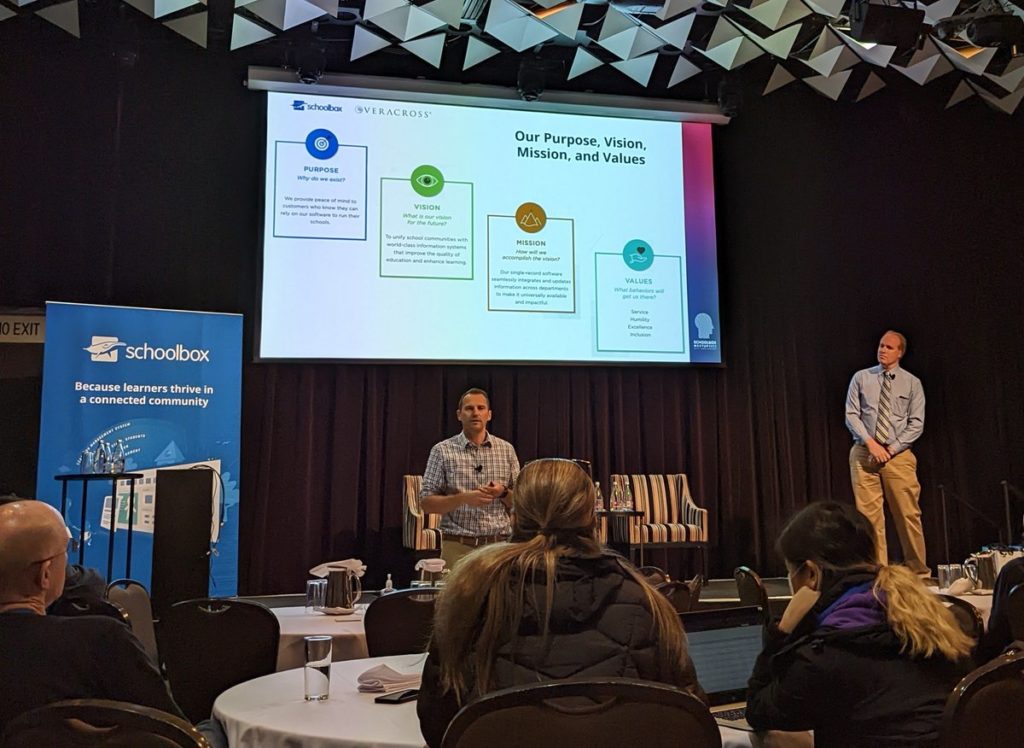 The People 
Outside of the conference, Don and Keith spent time networking and building relationships with software partners and independent schools across Melbourne, Canberra, and Sydney.  
They enjoyed visiting the Schoolbox office in Melbourne. "It was fun getting to know the team in person," says Keith. "They have a really great product and their customers think highly of them… it was nice to see them in action." 
They also met with several other Australian technology partners including Pixevety, Octopus BI, and Digistorm. These conversations were inspiring. "Each partner was clearly motivated by creating tools that make a difference for schools," says Keith. "It was refreshing to see how tuned in they are to schools' needs and driven to create solutions that will help the institutions succeed." 
These meetings reinforced the value of partnership and the importance of working together to serve the independent school community. Veracross is excited about the opportunity to work with such partners to increase efficiencies and experiences for school faculty, staff, and families. 
The Schools 
They also had a chance to connect with several independent schools in Australia and learn about their unique software needs through on-site visits, product demos, and an exclusive webinar for several schools in the region. These conversations were invaluable as Veracross seeks to collaborate with and provide best-in-class technology solutions for Australian independent schools. 
"Many of the technology leaders we met with had very sophisticated tech stacks," says Keith. "They've done an impressive job at integrating systems and being forward-thinking to make their software work for them."  
Throughout these conversations, it became clear that many of the issues facing Australian schools are similar to challenges found in the North American market — data management, usability, platform flexibility. There are also some unique needs in the Australian market that are not widely present in the U.S. Veracross is excited to explore how our SIS can best be leveraged to meet these needs and collaborate with Australian tech leaders for new partnerships down the road.  
The Highlights 
This trip was a memorable experience for the Veracross team both personally and professionally.  
Personal highlights of the trip included kangaroo sightings and exploring the beautiful country of Australia. Professionally, the focus of this trip was to build relationships and learn about the Australian market on the ground level. Spending time listening and learning from both schools and technology partners was incredibly insightful and inspiring — we're already planning our next trip.  
About Veracross 
Veracross is the leading provider of student information systems for private and independent schools. We currently serve 425+ schools in 30+ countries around the world. To learn more about our suite of software solutions, get in touch with our sales team.