The following is part 4 of our "Profiles in School Leadership" series. We're excited to highlight leaders in private and independent schools that have not only shaped their individual institutions, but have also made a lasting impact on the broader community.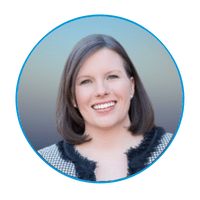 Courtney Stillwagon is the Director of Finance and Corporate Controller at The Mount Vernon School in Atlanta, GA. She had the opportunity to project manage the School's transition to a new SIS in 2020 — a unique project for an accountant, yet the perfect fit for her detail-oriented nature, communication skills, and desire to connect with others. 
Education and Career Journey 
Growing up in the mountains of northeast Georgia, Courtney attended the lone public high school in her small town. She was inspired from a young age to follow in her mom's footsteps as a bookkeeper and later studied accounting at the University of Georgia.  
Upon graduation, Courtney worked in public accounting as a bank auditor before moving to Coca-Cola. While this was a positive work experience overall, she found it difficult to fully understand the intricacies of such a large organization.  
I'm the type of person that loves to understand the whole landscape of something and be able to connect the dots of everything and add value that way.
After eight years with Coca-Cola, Courtney began to feel called to return to a smaller organization where she could be more involved.  
She had never considered working at a school — and certainly not a private school! A friend recommended The Mount Vernon School and Courtney was instantly impressed by the institution's innovative mindset and approach to education. She became excited about a career change and transitioned to the School in November 2019.  
Software Change Management 
Shortly after she started working at Mount Vernon, Courtney had an opportunity to spearhead the School's transition to Veracross as their new student information system. It's not often that a school's Controller manages a school-wide software transition (at the beginning of a pandemic, no less), yet Courtney had a unique vantage point and skillset that allowed her to do so. 
The business office at Mount Vernon is involved in a wide range of initiatives across campus. Courtney credits this to their ability to parse out data and inform data-driven decision-making for the institution. She had a strong relationship with IT already and partnered with the previous Head of IT to lead the SIS transition. 
Though I certainly didn't understand everything at the time, I was probably the most eager to take on this project because I love understanding everything. This was going to help me understand how everything works. I had this platform to ask all the questions.
Throughout the process, Courtney focused on two facets of change management: relationships and communication.  
Being new to both the School and the SIS transition, Courtney quickly realized she had a lot to learn. "Your job as the implementation leader is to look forward and see any issues that might emerge — and I didn't always know what those were." 
As the project leader, she relied on colleagues to answer her questions and shed light on what she didn't know. Courtney was able to build close relationships throughout this process which helped her understand the breadth of both the SIS and each department's operations. Reflecting on change management and building these deep partnerships, Courtney says:  
Be honest and vulnerable. Say, 'I understand the project steps but I don't know all of the intricacies of what we need to accomplish… It's alignment on what my goals are and what your goals are in the grand scheme of things.' It's a process.
Regarding communication, you can't overcommunicate about a large-scale project like a school-wide software switch. At the time of Mount Vernon's transition, it was the beginning of COVID-19 and individuals were overwhelmed by the amount of communication they were receiving on a daily basis. It was sometimes a struggle for Courtney to schedule meetings and communicate with stakeholders. She relied on detailed emails, personalized timelines, and clearly articulated roles and responsibilities to keep the project moving despite the obstacles. 

 Advice on Collaborating and Leading Special Projects 
Regardless of her title, department, or past work experience, Courtney has been able to contribute tremendous value both in and outside of the business office. Reflecting on her time at Mount Vernon thus far, she shares some advice for those in a similar position.  
To technology leaders: the business office is your friend. "People in the business office are much more systems-minded than we get credit for because so much of what we do is inter-related to everything else. We tend to understand all of the dots or connections, so when it comes to thinking about systems and things like that, don't be afraid to make those connections with us." 
To managers of special projects: find your co-pilot. "[My colleague] took on a ton of my day-to-day activities so I could focus more on the implementation. I think you have to find your person like that, sometimes you even have to bring someone in. Everybody has to take on more work, it's not just one person. If you can't devote the right amount of time to it, you're not going to be successful." 
We want to hear from you! Do you know someone in the independent school community with a fascinating career journey or nuggets of wisdom to share? Contact Rachel Kauffman to nominate a colleague for our next Profiles in School Leadership piece.