With nearly 350 billion messages sent each day, email is one of the most effective marketing channels — especially for schools. It's a powerful way to share information, build trust, and engage your school community. 
This summer we hosted the inaugural Veracross MasterComposer Email Contest as a way to celebrate the thousands of emails built in Veracross Composer each year. We're thrilled to announce this year's winners:  
Most Successful Campaign –

International School of Boston

 

Most Creative (Visually) –

Gulliver Preparatory School

 

Most Creative (Content) –

St. Francis Episcopal School

 

Best Template –

Montclair Kimberly Academy

 

Best Subject Line –

Poly Prep Country Day School

 
Keep reading for a behind-the-scenes look at the winning entries and learn about each school's unique approach to email marketing.  
Most Successful Campaign: International School of Boston (ISB)
As every development professional knows, the last few months of the year are a critical time for school fundraising. Each December, ISB hosts a special fundraising campaign separate from their Fall Appeal to help generate funds for a specific purpose at the school. They hosted A Cause for Momentum in December 2022 to raise money for school enhancement programs. With the help of two generous matching gifts (or Challenge Grants, as ISB calls them), the school raised over $70,000 — surpassing their goal of $60,000 in less than two weeks' time! 
The 2022 goal was the largest in the school's history. Christine Pierce, Associate Director of Annual Giving, was anxious about the goal but rose to the challenge. "That gave me extra energy to be my most persuasive in our weekly email solicitations, and the community responded generously," she says.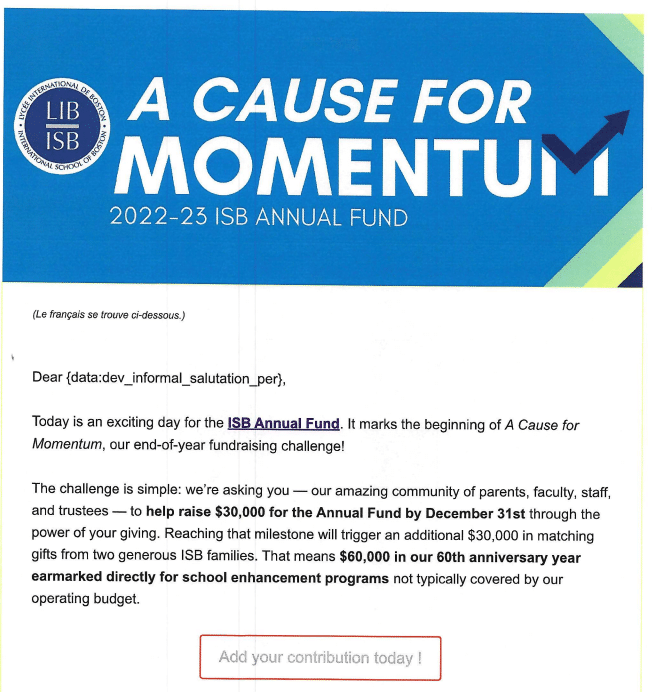 Email solicitations were key to the campaign's success. Pierce crafted a biweekly email schedule beginning on the first school day of December. Every Tuesday and Thursday, emails were sent via Veracross Composer to current parents, trustees, faculty, and staff to promote A Cause for Momentum. These emails were straightforward, outlining the campaign goal and clearly stating what the money would be used for. The $60,000 goal honored the school's 60th anniversary year which also added to the ethos of the ask. Additionally, former families and former trustees were emailed once per week with slightly different messaging. The campaign was also supported with weekly social media posts. 
Looking ahead to this December, Pierce is hopeful that they will be able to secure a strong Challenge Grant and double the impact of their fundraising efforts.  
Most Creative (Visually): Gulliver Preparatory School
An email newsletter is a powerful way to share information and engage your school community. At Gulliver Preparatory School, The Weekly Raider is a one-stop-shop for all things related to the institution. The school has three campuses; the newsletter is comprised of information from each location and division to make sure everyone stays in the loop. 
Gulliver Prep's marketing and communications team plans the newsletter two weeks ahead of time. They work collaboratively to gather stories and visual content from each campus. "Our team has created a very good partnership with faculty and staff," says Communications Associate Cristina Mazarredo. "This partnership means that they both let us know about the different activities that are happening so we can cover them, and also get submissions from them throughout the week via our stories form."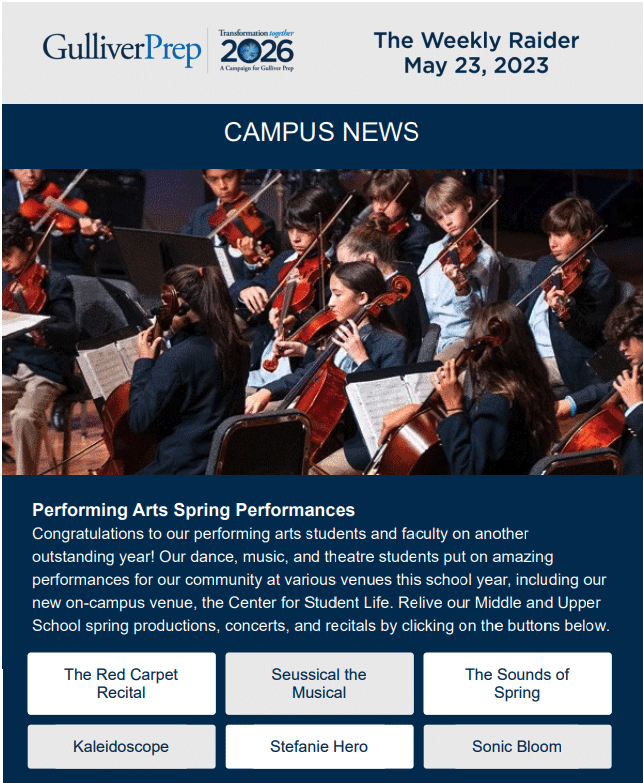 They built a newsletter template in Veracross Composer that provides the foundation for each email. The MarCom team works on it progressively as news trickles in, adding copy, editing, and cropping photos as needed. This past year, the team added new design elements to their newsletter to make it more attractive and engaging. Their winning MasterComposer entry featured a gif that rotates through several photos and helps promote the newsletter's top story about the school's performing arts events. This particular issue had an open rate of 70.23% and 430 reader clicks. 
Looking ahead, Mazarredo is eager to explore new storytelling tools like video interviews and community member spotlights! 
Most Creative (Content): St. Francis Episcopal School
With so much competition in today's educational landscape, a little bit of creativity goes a long way! St. Francis Episcopal School took this notion to heart with last year's application reminder email. Ahead of the December 15 deadline, the admission office sent an email to prospective families with a not-so-traditional reminder message. They rewrote the holiday classic "Twas the Night Before Christmas" into a playful poem about the application deadline.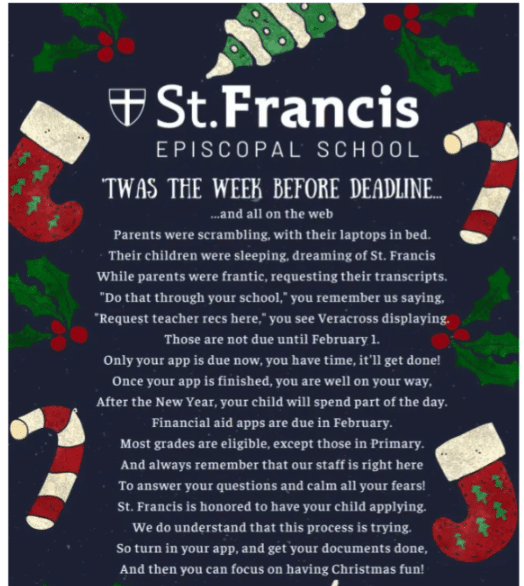 The email successfully reminded families of the impending deadline and showcased the spirit of the school with warmth, accessibility, humor, and fun. "We try to make our process as personal as possible," says Jennifer Glover, Head of Admissions and Enrollment Management. "We use various touchpoints throughout the process with handwritten postcards, emails, videos, and more. We want everything we do to be done with the same vibe that our school has." 
The email was well-received by families and will be reused in years to come. Glover is also eager to experiment with the poem on other mediums like social media. 
Best Template: Montclair Kimberley Academy (MKA)
Information-sharing is always a challenge, especially when schools are spread across multiple locations. MKA has three campuses in Montclair, NJ that each have their own newsworthy items to share. Families expressed that they were feeling inundated by the amount of communication from the school. As a result, the communications team created a tri-campus newsletter to consolidate updates and streamline the amount of emails being sent.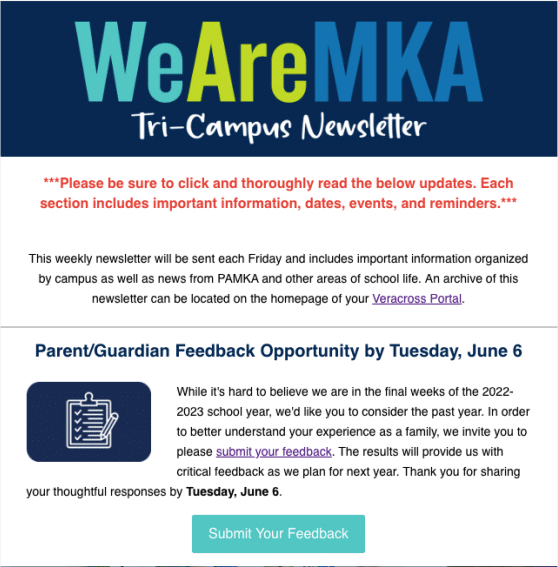 The newsletter is sent every Friday at 10:00am. As a small (but mighty) team of two full-time and one part-time employees, the communications team collaborates with the administrative team, members of the Parents' Association, and department leaders from each campus to collect content each week. Each group is responsible for contributing content by Wednesday so feedback and testing can be done on Thursday for a timely send by Friday morning.  
"The feedback has been great," says Ashley Conde, Associate Director of Communications. "Families now know where to look for important information and updates each week. We continue to tweak the template and format per ongoing feedback and are excited that the response has been so positive." 
Since starting the newsletter, email engagement has increased to an average open rate of 80%. The communications team works hard to promote the newsletter and remind parents, faculty, and staff that it is the main source of information from the school. Conde and her team are excited to continue improving the newsletter and using it to bring their community together. 
Best Subject Line: Poly Prep Country Day School
Every email marketer knows the power of a strong subject line. Without it, the chances of someone opening your email drop considerably.  
When Poly Prep moved to a cashless campus, they wanted to generate excitement with their email announcement and make sure students understood their new payment options. They settled on the following subject line: Next Level of Snacking: Cashless Campus. Compared to previous email campaigns, the open rate for this email was 85% and the click rate was 22% — both slightly higher than their average send metrics.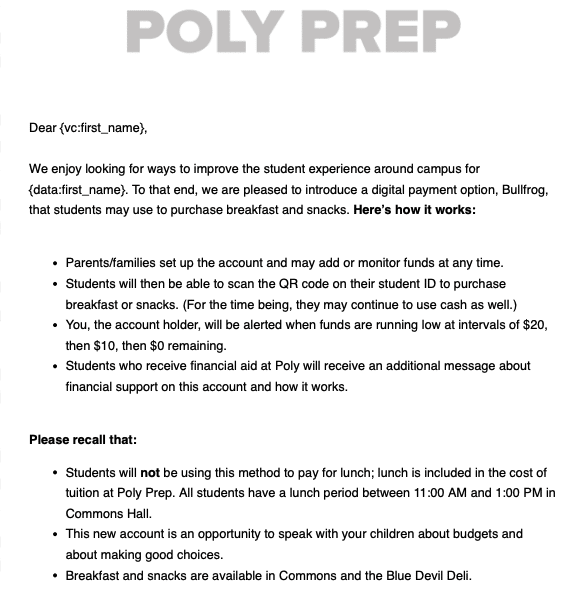 William Rosario, Digital Communications Manager, credits the campaign's success to an intriguing, but direct, subject line. "It was fun but also meaningful," he says. "It really shared how our older students can snack at school."  
Poly Prep has high hopes for their email program this year. Rosario aims to incorporate emojis and personalization in subject lines to further increase engagement. He's also taking stakeholder feedback to heart and making thoughtful changes to email send time, what types of information are shared, and the urgency of campaigns. Lastly, the school seeks to refine their email strategy with targeted communications so families get limited but valuable emails in their inboxes. 
Inspiration for Your Next Email
From fundraising triumphs to eye-catching newsletters and witty copy, we love seeing how schools are connecting with their communities through email. As this medium continues to play a pivotal role in school communications, we hope these success stories inspire you to get creative and lean into the power of email.  
Interested in learning more about Veracross Composer? Get in touch to learn how you can take your communications to the next level.